Wouldn't it be great to have a robot that simply follows you around, carrying your heavy backpack, groceries or whatever else you need to transport? And what if such solutions were available for industry, allowing construction workers and operators in logistics to be relieved from transporting heavy cargo and freeing their hands to perform more meaningful tasks?
Founded in 2015 by the Piaggio Group, Piaggio Fast Forward (or PFF for short) is a company that recognizes this challenge, developing cutting-edge technology for human following, aiming to improve mobility for the entire human-built environment, from workplaces to pedestrian use.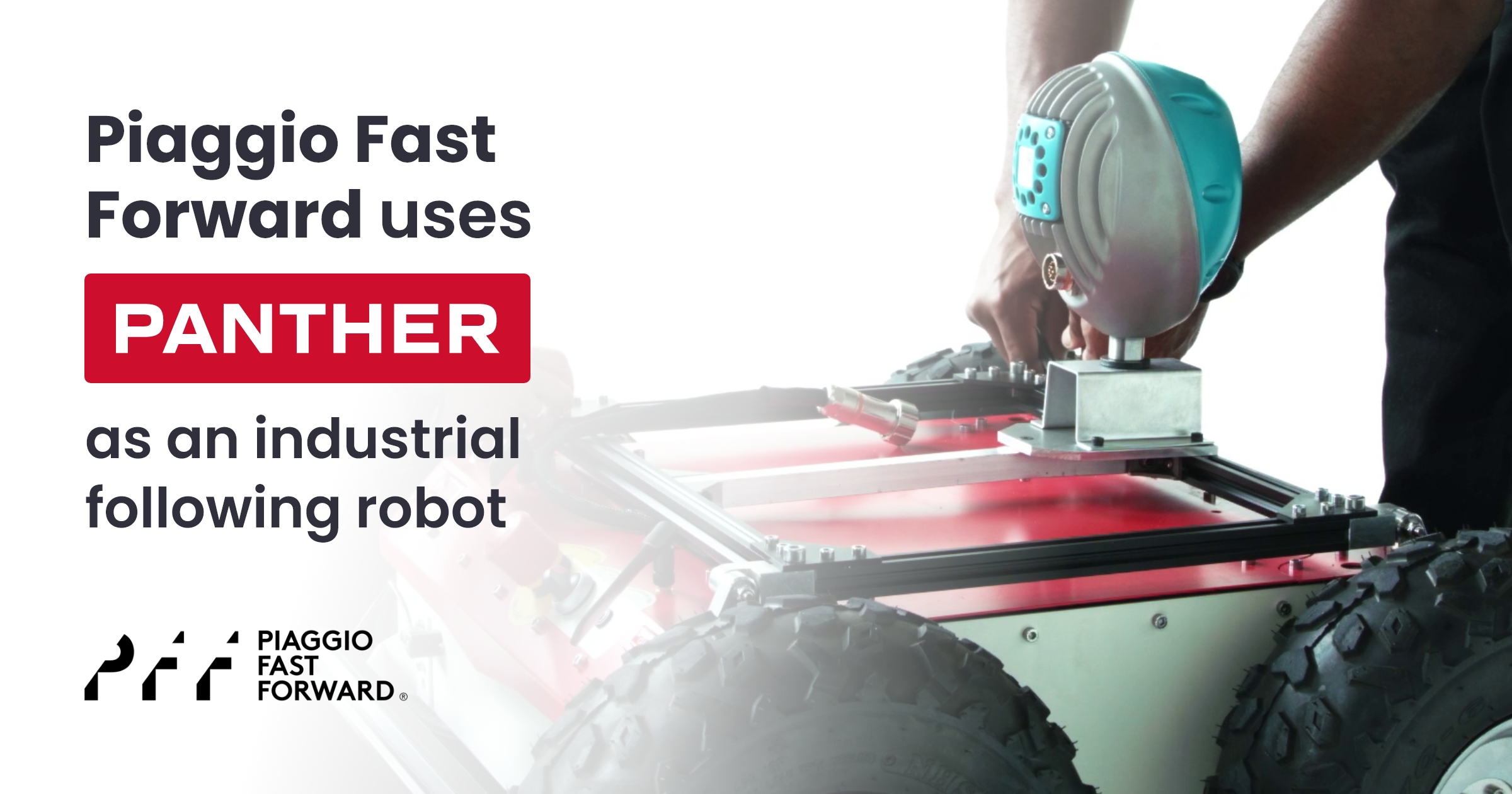 After creating gita, a small-sized following robot for personal use, Piaggio Fast Forward took on bigger challenges. PFF Follow is a recently developed module, enabling customers to transform any new or existing motorized equipment into a following robot. The company decided to integrate the PFF Follow module with Panther - an industrial-grade, heavy-duty robot by Husarion, designed for a variety of outdoor use cases across agriculture, logistics, mining, and other industries.
Keep on reading to:
Gain insights into how dynamic following technology works and see its demonstration on Panther.
Learn why Panther was the perfect choice for this use case.
Get to know how you can get your own following Panther.
The story behind dynamic following technology​
Since the inception of Piaggio Fast Forward, their mission has been to create innovative tech that mirrors the way people move and helps users to be more autonomous in their everyday lives. It meant the need to create an experience that was not only intuitive and highly intelligent, but one that was also totally hands free.
The PFF Follow module developed by Piaggio Fast Forward relies on three types of sensors to monitor the environment and determine the location of a leader:
Stereo depth camera for tracking the leader and detecting obstacles. The left and right lenses are the imagers used for calculating depth information, while the center lens is used as the infrared recognition (IR) pattern projector, necessary to calculate depth values on surfaces with low detail. The stereo depth camera provides data enabling a 3-dimensional understanding of people, obstacles, speeds, and trajectories.
RGB camera to help distinguish the leader from other people and objects.
Radar Sensor to track the leader.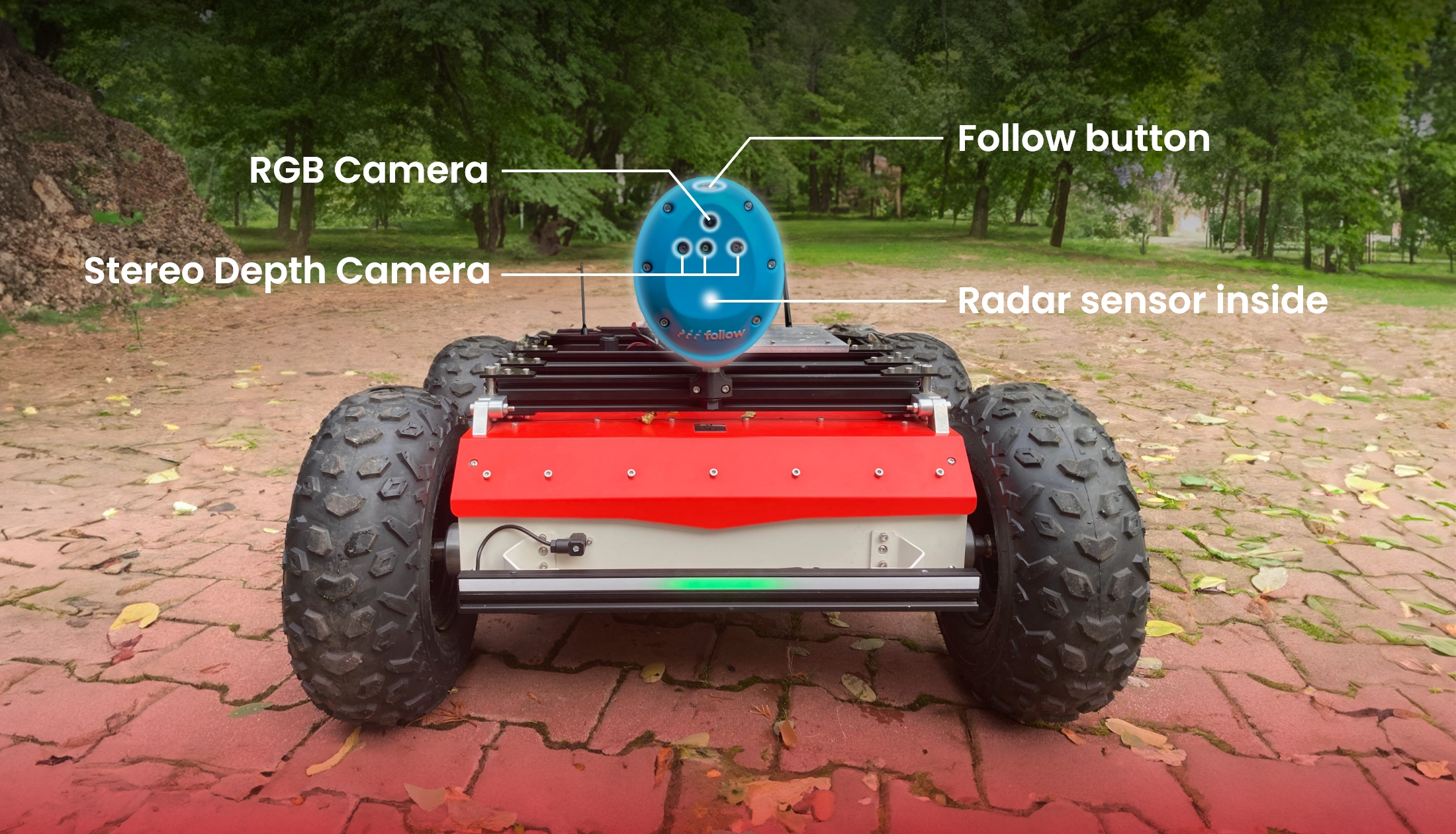 The visual and spatial information collected by these sensors is processed and transmitted to the host robotic platform, such as Panther. This allows the robot to mimic the speed and trajectories of the leader, adjusting the distance, navigating the environment safely, and stopping before making contact with humans or objects. All of this is achieved without the need for pre-mapped environments, GPS, or additional tracking devices.
What's more, PFF Follow offers easy integration with the robotic platform, providing multiple connectivity options (USB, CAN, LTE, Wi-Fi, Bluetooth), a ROS client and an intuitive web UI that enables the user to easily configure basic parameters such as the desired distance to the leader or maximum speed. Once the module is integrated with the robot, all that is required is to press a button and wait for the robot to pair with the leader. There is no need to map the environment or train the user. As one of the PFF engineers pointed out:
"One thing that I noticed was that everyone thought using the following module was a piece of cake, whether that person was eight years old or eighty."
Follow me, Panther​
When transitioning from the creation of standalone personal robots to the development of a universal module suitable for larger industrial robots, engineers at PFF had to select the appropriate mobile platform that could be seamlessly integrated with the module and allow them to prepare their solution for a more challenging environment. It was not by chance that they chose Panther.
"We chose Panther because we wanted to integrate our PFF Follow with an off-the-shelf drive by wire 4 wheels platform", states Jean-Claude Coutant, CTO of Piaggio Fast Forward. "Panther's specifications answered our needs by providing an easy integration (power and Ethernet cable) into a drive by wire platform."
Promo video featuring Panther integrated with PFF module
What other factors influenced their decision?
According to Piaggio Fast Forward, they aimed for their solution to operate effectively in a wide range of environments. To achieve this goal, they needed a robot that, when integrated with their module, would enable them to prepare a solution to function both indoors and in challenging outdoor terrain. With independent BLDC motors for each of its four wheels and an IP54 to IP66 rate of protection, Panther had no problem meeting these criteria, allowing PFF to develop a product that works in various environments and industries, including outdoor logistics, construction and agriculture. One of the opportunities to showcase Panther integrated with the PFF module occurred during FIRA USA, the greatest event for autonomous farming and agricultural robotics solutions in the USA, held in Salinas in September 2023.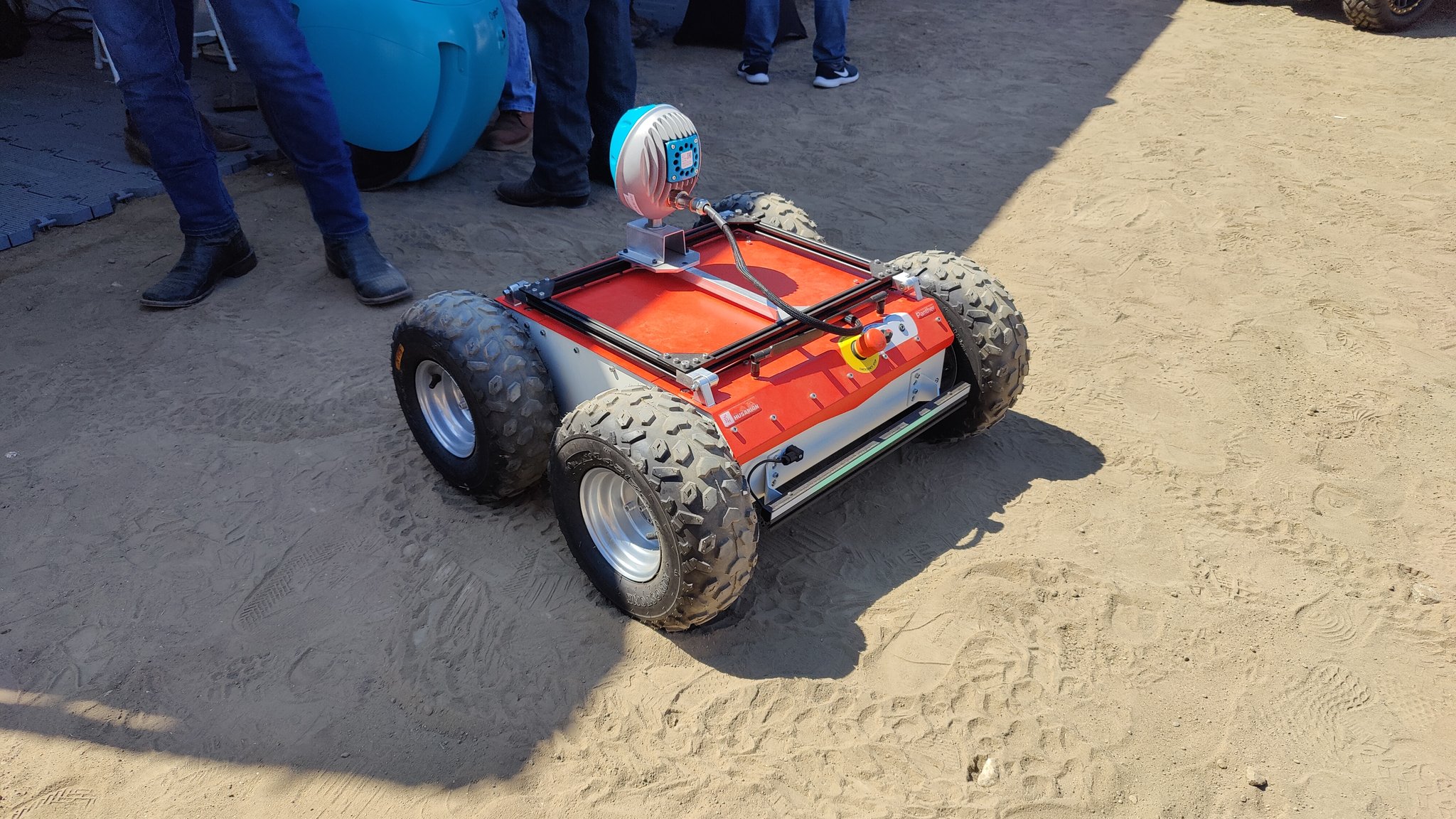 Panther with PFF module at FIRA USA 2023, Salinas
Additionally, Panther came in the perfect size for the human following use case, enabling direct cooperation with people without posing any safety threats, thanks to its weight and dimensions.
Get your own following Panther​
The PFF module is a tool that enables Panther to autonomously follow the user, relieving them from the burden of transporting heavy cargo and allowing them to operate hands-free. Paired with Panther's advanced outdoor capabilities, these benefits can be achieved across diverse and challenging terrains, be it in the field, at a construction site, or within demanding natural or industrial landscapes. With the PFF module, Panther becomes a reliable companion, following the user seamlessly while they focus on important tasks, making outdoor operations more streamlined and efficient.
At Husarion, we understand the challenges faced by our clients, which is why we've teamed up with Piaggio Fast Forward to offer their product integrated with Panther. With a ready-made ROS driver, Panther is set up and ready to follow the user right after you turn it on. If you see the potential of this powerful combination for your business needs, reach out to our sales team at contact@husarion.com for more details.
And if you want to learn more about Piaggio Fast Forward technology, check out their website or drop them an e-mail at business@piaggiofastforward.com.