We all know that limiting CO2 emissions is one of the most urgent goals we face today. But what if I tell you that, at this point, limiting emissions simply isn't enough, and we must also start actively removing CO2 from the atmosphere? What's more, with regulations introduced in recent years, carbon removal is no longer just a matter of social responsibility, but it has become a business necessity for many companies. The price of emitting one tonne of CO2 is almost €95 in the European Union and $51 in the USA, creating both an ecological and business need to develop efficient carbon removal techniques. Unfortunately, most carbon removal techniques are expensive, do not generate financial profit for the companies and produce waste instead of a useful outcome.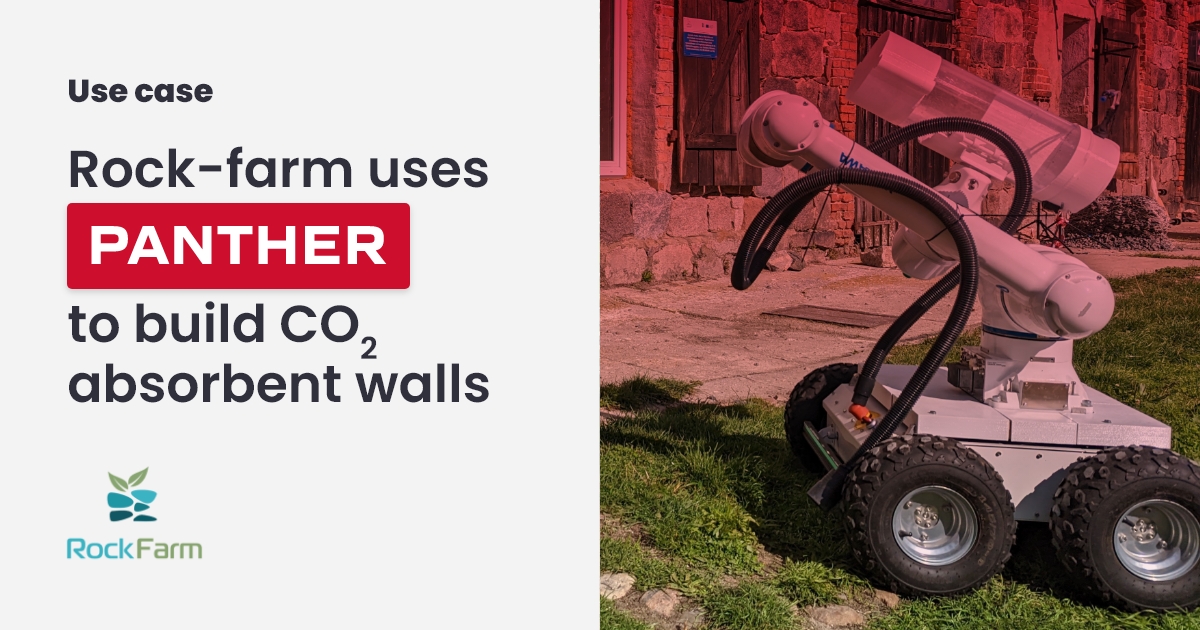 But what if companies could remove carbon, thus reducing CO2 emissions, without incurring costs? What if they could actually use the removed carbon for something useful and profitable instead of discarding it? This idea stands behind the project of Rock-Farm, a business that provides services of carbon removal by… building rock walls. What's even more interesting, they do it fully autonomously, using Panther as a base for their masonry robot.
Rock-Farm GmbH, previously known as NASKA robotics GmbH, is a company founded in 2020 by Dr. Tobias Brett, a robotics engineer. The company has set its goal toward creating a scalable and cash-positive carbon removal solution. Their rock walls, constructed autonomously with the use of rock powder and natural stones, can be built on any ground without interfering with the natural view of the landscape and work as a giant reactor for carbon removal thanks to the CO2 mineralization process. How exactly does this technology work?
Just a volcanic rock in the wall​
The concept behind Rock-Farm's carbon removal service is at the same time simple and innovative. The company leverages a well-known natural process that volcanic rocks can store CO2. However, in nature, mineralization happens slowly and requires a large rock surface. To accelerate this process and avoid the need to transport large and heavy amounts of solid rock, Rock-Farm uses fine volcanic powder. With micrometer-sized particles, the total surface area is increased, allowing for the right ratio of mass to surface, where 3 kg or rock powder can remove 1 kg of CO2.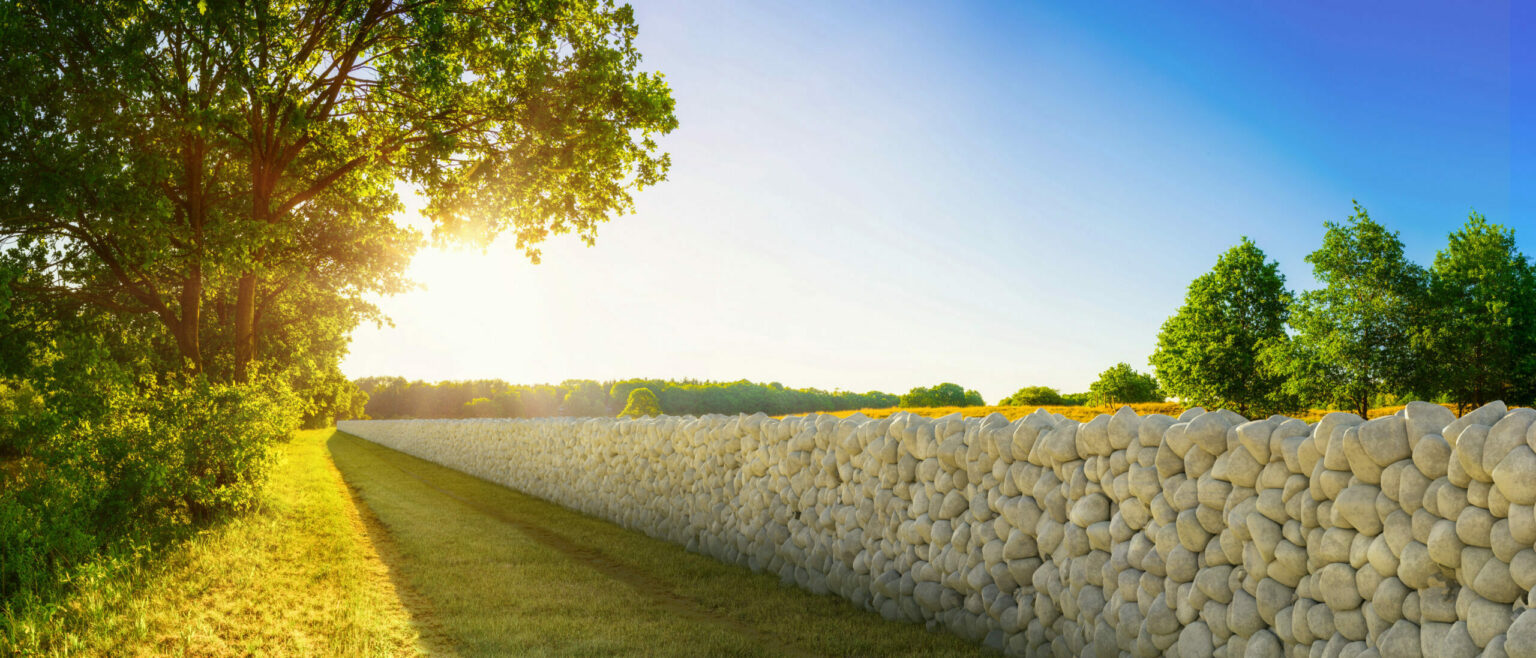 The company constructs stone walls at the customer's property, using rock powder as an adhesive. Biogenic CO2 is then constantly added to the rock powder, which absorbs water and carbon dioxide, increasing in weight. Every year, when the rock medium becomes saturated with carbon, it is flushed with water and removed from beneath the wall, and the wall is refilled with fresh carbon-absorbing rock powder. The output material, carbonated rock, is used as the support structure for building new walls, making it a scalable and sustainable solution. As the CEO of the company explains, "the profit is from the mass increase." Customers pay only once for the carbon removal cell and are not charged for wall refilling or carbon removal itself.
Our customers can expect a payback period for their investment. This is like paying for a solar cell and not paying for electricity, anymore. - claims Dr. Tobias Brett.
And what about the robots?​
To take innovation to the next level, Rock-Farm has decided to use robots for constructing and refilling their carbon-absorbing walls, thus reducing costs and eliminating the need for hard manual labor. Constructing such a robot requires not only a precise and efficient robotic arm but also a robust mobile base - and that's where Husarion Panther comes in.
In the Rock-Farm project, Panther carries a waterproof Yaskawa DT 10 manipulator, which performs masonry work of rock walls, removes carbonated material at the end of each year and supports the feeding of rough rock into grinding machines.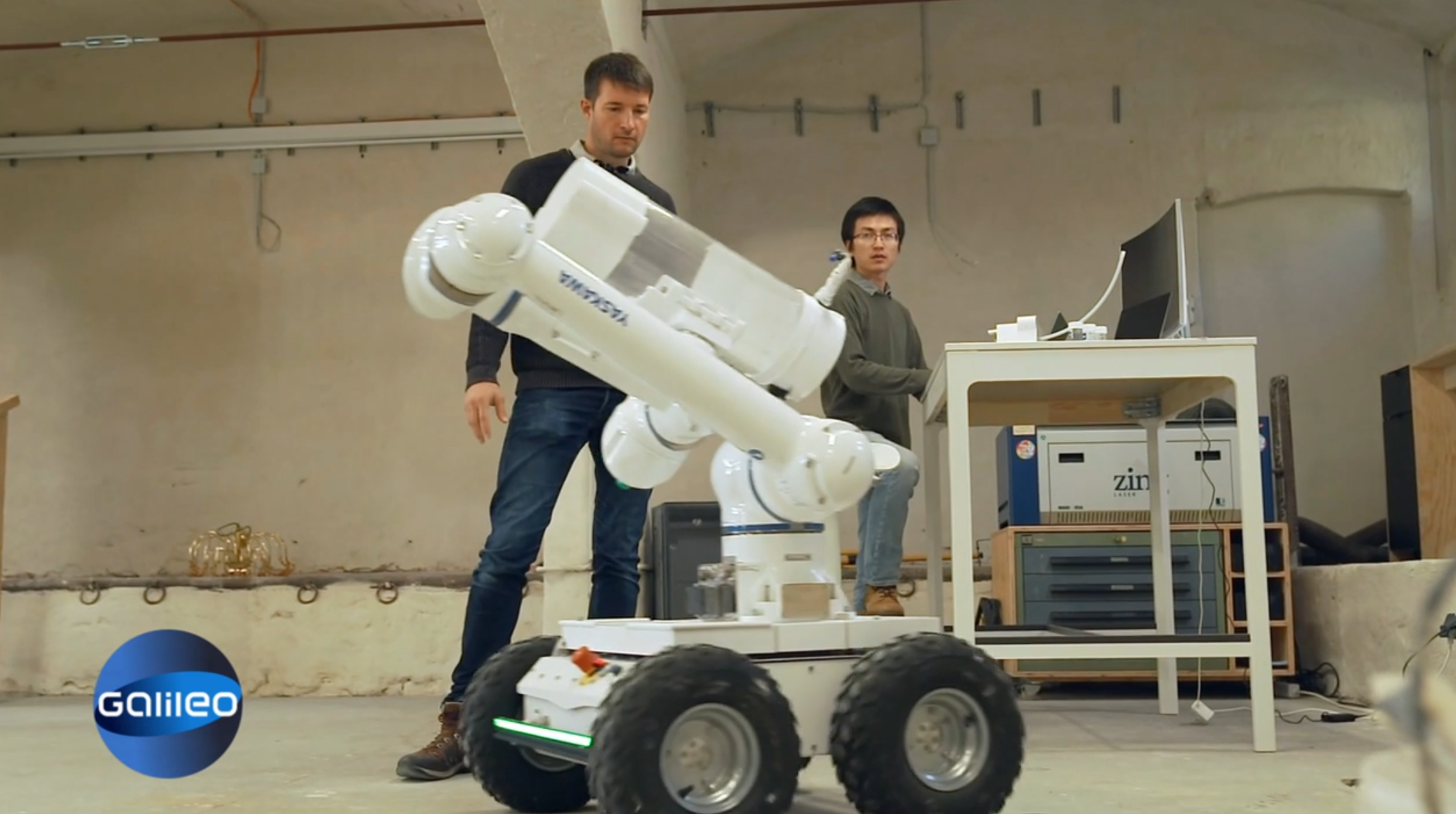 Still from the Galileo program featuring Panther in Rock-Farm project
There are several reasons why Panther was a good choice for Rock-Farm project:
It works well as a mobile manipulation platform because of high payload capacities, so it's easy to integrate multiple robotic arms, like Yaskawa DT 10 in Rock-Farm,
It's water and dust proof with IP66 protection rating option.
It is a heavy-duty robot with optimal dimensions for construction sites.
It comes with multiple built-in connectivity (Wi-Fi, dual-sim 4G (LTE) – Cat 6) and navigation (GPS, GLONASS, BeiDou, Galileo and QZSS) options.
Result? Longer working time than in case of human workers, lower cost of rock-absorbing walls and more CO2 removed from the atmosphere, allowing companies to approach their sustainability goals without having to pay for carbon removal every year. As Rock-Farm claims: "The climate crisis should not be solved by the hands of human labor. The task is simply too large."
What's next?​
Rock-Farm is currently participating in the XPRIZE Carbon Removal competition and has been selected for the third batch of the Carbon Removal ClimAccelerator as one of the 22 most promising startups in carbon dioxide removal in Europe.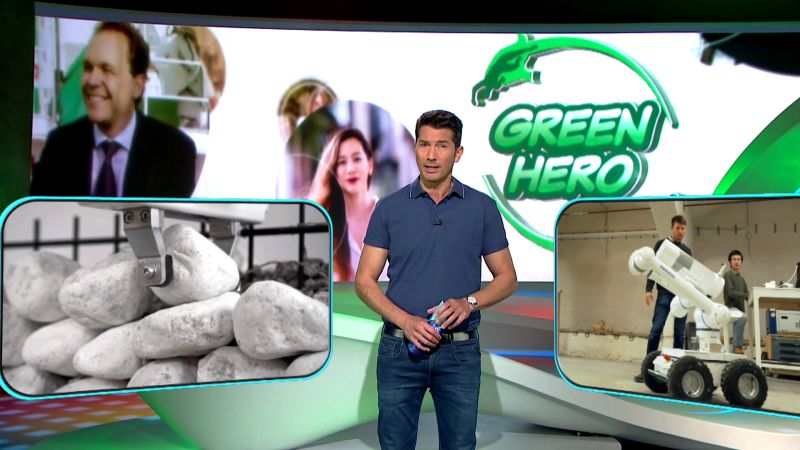 Still from the Galileo program
Their goals for the future are vast and ambitious, including using Panther to perform complex navigation tasks on the construction site, remotely controlling the robotic masonry process from the cloud, and autonomously performing various tasks on the farm beyond building rock walls, such as trimming or mowing the lawn.
If you're curious to learn more about the Rock-Farm project, check out their website and LinkedIn page.
Rock-Farm use case demonstrates how useful Panther can prove in the construction industry, eliminating the need for human labor. At the same time, it can cooperate directly with people on the construction site without posing a safety threat, thanks to its weight and dimensions.
If you work in the construction industry and believe that Panther could be equally useful in your use case, don't hesitate to see it in our store or contact us on contact@husarion.com